Redsunland.vn –  Recently, industrial property has emerged as a sector that captures a lot of investor interest as a result of the shift from agriculture to industry and services in Vietnam as well as due to the many positive developments on the market including mergers and acquisitions and the increased availability of new industrial land.
Vietnam's industrial property market at a glance
The concept of industrial property
Industrial properties are investment projects to build industrial parks. They cover a wide range of activities to create various assets such as the building of warehouses and factories for rent, the development of urban areas and offices for lease, and investment projects for industrial production.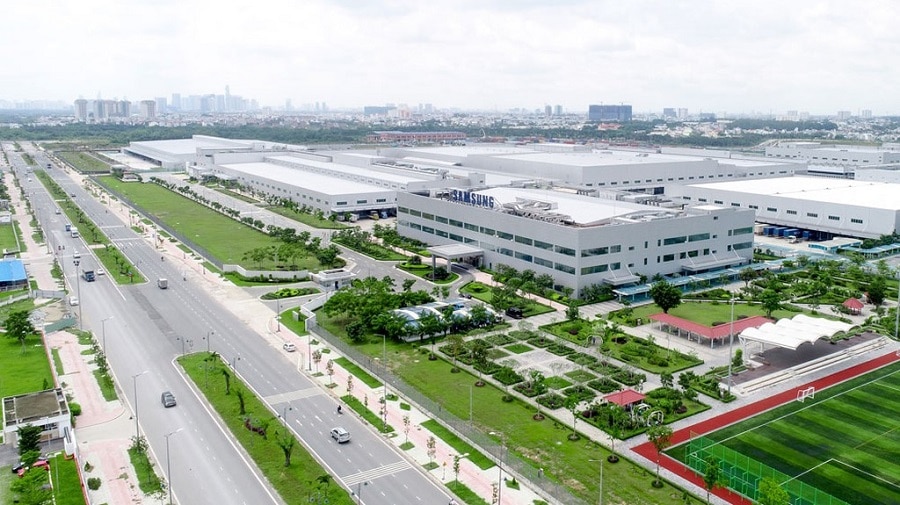 Vietnam's industrial property market landscape
Highlights of Vietnam's industrial property market in 2021 in the context of Covid-19
According to statistics from the Ministry of Planning and Investment, despite COVID-19, the foreign direct investment (FDI) realized in the past 7 months has reached USD 10.5 billion, a YOY increase of 3.8%.
Among the 18 industries and sectors in which foreign investors have invested in Vietnam, the processing and manufacturing industry remains in the lead with over USD 7.9 billion, accounting for 47.2% of total registered investment capital. The real estate sector continues to maintain the 3rd position with a total registered capital of USD 1.16 billion.
Besides, according to Ms. Nguyen Thi Huong, Director of the General Statistics Office, the GDP growth rate in the second quarter of 2021 is estimated to increase by 6.61% YOY, higher than the 3.9% growth rate of the second quarter of 2020. In general, GDP in the first 6 months of the year increased by 5.64%, higher than the 1.82% growth rate of the first 6 months of 2020. The construction and industrial sectors have so far seen the highest growth.
The metrics stated above mean Vietnam ranks high compared to other countries in the world. This is even more impressive given the fact that Covid-19 has been wreaking havoc on the global economy. In particular, if we look at the FDI indicators of the economy as well as the interest from foreign investors, Vietnam's industrial property segment is considered a "spotlight" for the property market in 2021.
Specifically, as of June 20, 2021, the total amount of FDI injected into the manufacturing industry reached USD 6.97 billion. Production capital is currently USD 3.38 billion, higher than the VND 3.23 billion recorded for the same period last year. Along with this, multiple major investment deals have taken place in the market in the first half of this year. For example, in the North, nearly 500 million USD has been invested in Jinko Solar Hong Kong for the construction of Khoai River Industrial Park in Quang Yen (Quang Ninh) and Fukai Technology from Singapore for Quang Chau Industrial Park in Bac Giang province.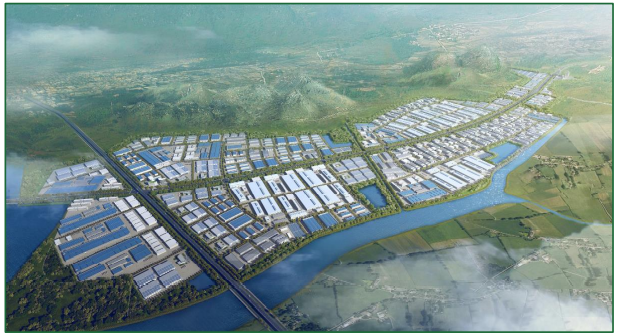 Hoang Nguyet Minh, Associate Director of Investment at Savills Hanoi, also shared that Vietnam's industrial park real estate is becoming and will become a highlight thanks to the Free Trade Agreement as well as the trade tensions between the United States and China. This has aided the transfer of technology and knowledge, thereby accelerating the transition from low-value and local industries to higher and better value ones. Besides, the magnet for cash flow in the coming time will be industrial parks that have been included in the relevant master plans.
On the other hand, experts also believe that the demand for logistics and warehousing will also provide a significant opportunity to help the industrial property to thrive in the future along with traditional industrial properties.
Overall, although 2020 and 2021 have depicted a rather negative picture due to Covid-19, the industrial property segment still enjoys decent growth. In the short to medium term, there will still be a lot of major investments in local industrial properties.
Especially, as forecasted, once the pandemic has been brought under control, this segment will emerge even stronger in terms of both supply and demand.
Industrial properties in the northern region in 2021
Supply: JLL's report for the second quarter of 2021 recorded a new supply from Yen My industrial park in Hung Yen by Viglacera Yen My as an addition to the property for lease market in the northern region. This helps increase the total area of industrial land for lease to nearly 9,700 hectares. Apart from this, Viglacera is also planning to kick off a project to develop Thuan Thanh I industrial park in Bac Ninh in 2021.
In addition, a new supply has also emerged in the ready-built factory market, mostly concentrated in Hai Duong. This increases the total supply of ready-built factories in the northern region to 1.9 square meters. More remarkably, the market has also seen more M&A deals in the second quarter of 2021, including the acquisition by Boustead Projects of 49% of the stake of KTG Bac Ninh Industrial Development Joint Stock Company at a price of about VND 6.9 million.
Even so, the Covid-19 outbreak that took place at the end of April dampened the industrial property market in the second quarter of 2021. This was worsened by the fact that most existing projects were relatively small, no new major FDI projects were launched to the market.
Occupancy rate: Despite the impacts of Covid-19, the occupancy rate in the northern region remained stable following the announcement of a series of relatively large projects in the fourth quarter of 2020 and the first quarter of 2021. Among these projects were LG display, in an effort to increase capital, or those of such giants as Pegatron, Foxconn in industrial parks in the Northern region.
Currently, the occupancy rate in industrial parks in the North is staying at 75%, while ready-built factories have seen a decrease compared to the first quarter of 2021 as a result of new supply.
In addition, since small and medium enterprises (SMEs) were worst hit by the pandemic, the number of businesses that have temporarily suspended operations in the first half of 2021 increased by 22% YOY. Given that businesses operating in the processing industry account for 11.9% of the number of SMEs, the situation also had a negative impact on the occupancy rate.
Stable land and factory rentals: A series of industrial parks in Bac Giang and Bac Ninh had to temporarily suspend production because of Covid-19, causing the uptrend of land prices to be slowed down. Still unchanged at 107 USD per m2 per lease cycle in the 2nd quarter of 2021, land prices recorded an increase of 5.9% compared to the same period last year but slowed down compared to the 1st quarter of 2021.  Besides, the rentals of ready-built factories have also recorded an increase that is lower than the 1st quarter of 2021.
Market Outlook: The Northeastern region is seen as home to a vibrant industrial property market. Although no official confirmation has been made, Pegatron's increase of investment capital in Vietnam after the project in Hai Phong city is a positive signal of the demand for industrial properties in the future.
Apart from the provinces in the Red River Delta, provinces in the Northeastern region such as Quang Ninh, Bac Giang, and Thai Nguyen are also receiving a lot of attention from investors with advantages in rental prices as well as increasingly improved infrastructure. Land prices in these areas are expected to grow at 8-10% year-on-year.
In addition, the region is also forecasted to be home to an extremely dynamic ready-built factory market with the entry of many new investors such as Vietnam Industrial Park Joint Stock Company or GNP Industrial.
Industrial properties in the Southern region in 2021
Supply: JLL's report for the 2nd quarter of 2021 reveals new supply in the property for lease market in the Southern region. The supplier is Tran Anh Tan Phu industrial park in Duc Hoa District, Long An Province with the developer being Tran Anh Group. With this new supply, the total area of ​​industrial land for lease in the South has increased to 25,220 hectares.
Thanks to this, Long An is strengthening its role as another outstanding destination for sustainable industrial development in addition to the two familiar names of Dong Nai and Binh Duong.
Under the impacts of the 4th outbreak of Covid-19, the released data does not include new suppliers of ready-built factories for this quarter. The existing supply is 3.2 million square meters.
Stable occupancy rate: Thanks to its relatively optimistic economic growth indicators, Vietnam's industrial property market still boasts a huge potential along with its unique relative advantages. This helps the country stand out in the logistics supply chain and appeals to manufacturers.
JLL's data for the 2nd quarter of 2021 also covers multiple deals closed in Ba Ria Vung Tau regardless of the impacts of Covid 19. These land lease agreements are mainly with heavy industry manufacturers. 85% and 86% are respectively occupancy rates of industrial parks and ready-built factories.
For industrial land, many new transactions were also recorded during the outbreak. This means both tenants and developers have gradually come up with appropriate solutions to deal with the pandemic and carry on with their business. In addition, the ready-built factory market also witnessed a commercial expansion of existing enterprises in addition to new ones.
Land prices are experiencing an uptrend, while lease prices for ready-made factories have stagnated. Industrial land, which is considered to be in a position of long-term production investment, has always maintained a relatively stable price growth over the years. The 2nd quarter of 2021 saw industrial park developers in the Southern region set a new average price peak of $113 per square meter per lease cycle, an increase of 7.1% over the same period last year.
Meanwhile, the lease price of ready-built factories reached an average of about 4.5 USD per square meter per month for the entire Southern region. This price, which only represents a 0.5% increase from the same period last year, can be ascribed to the impacts of Covid-19 on this type of industrial property.
Market Outlook: Lease prices will continue to increase as infrastructure improves. So far, Vietnam is still recognized as one of the countries that successfully control the Covid-19 pandemic. This has played a crucial role in consolidating and building investors' confidence in a potential business environment like Vietnam.
Provincial governments are also constantly building and improving infrastructure systems with bright visions of the future of Vietnam's manufacturing sector. Such typical infrastructure projects include Bien Hoa – Vung Tau Expressway, Ben Luc – Long Thanh Expressway, and Phan Thiet – Dau Giay Expressway. All of these assets are located in the key industrial development areas around Saigon.
It is expected that industrial land lease prices in the Southern region will continue to grow. Regarding the ready-built factory market, over 940,000 square meters will be marketed in the last quarter of 2021 provided that the Covid-19 situation improves and the market recovers.
Challenges, opportunities, and potentials of Vietnam's industrial properties
The major difficulties facing the industrial property market
According to the Vietnam National Real Estate Association (VNREA), the property market, in general, is currently under a lot of pressure from Covid-19 as well as the changes in administrative procedures. Investors are constantly suffering from the prolonged delays of projects in the construction phase. This, coupled with the disruption of the supply chains, has caused their business to make losses.
Previous Covid-19 outbreaks threw many small and medium enterprises to bankruptcy. In fact, activities in the property sector in general and the industrial property segment, in particular, have shrunk by between 60% and 70%. Statistics indicate about 50% of property exchanges are currently in hibernation. Due to the shortage of supply, customers no longer show a lot of interest while investors choose to focus their resources on overcoming pandemic consequences instead of taking further risk.
Regarding the industrial property market, in particular, COVID-19 also poses challenges in logistics, supply chain, and business activities.
Opportunities for the industrial property market
Weighing threats against opportunities, the challenges mentioned above seem to have affected investors' decisions to invest in properties. If, however, one thinks wisely, it is clear that the opportunities actually prevail. Industrial properties are becoming an increasingly popular trend for investors.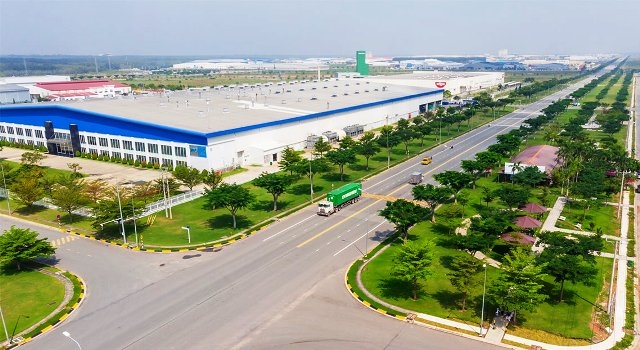 In recent years, the demand for land and factories has risen tremendously, which is the reason why Vietnam's industrial property market is becoming more bustling and appealing. What indicates the industrial property segment is getting better and better is the increasing occupancy rates of industrial parks.
FDI inflow from Hong Kong and China has seen a strong hike
Of the total FDI investment capital of USD 31.8 billion injected into Vietnam, the manufacturing and processing sector accounts for 68% (According to statistics for the 11 months of 2019). The country's ability to attract foreign investment is constantly improving thanks to its young workforce, a stable political environment and, in particular, huge potentials for development.
New Free Trade Agreements (FTA) Offer Many Opportunities
In January 2019, the Comprehensive and Progressive Agreement for Trans-Pacific Partnership (CPTPP) was officially signed by the Vietnamese government, with great hope for an additional GDP growth rate of 1.32% by 2035. Vietnam is and will be actively participating in free trade agreements with the world's leading economies. This is a very positive signal for the overall development of the local economy.
Besides, the Free Trade Agreement between Vietnam and the European Union (EU), also known as EVFTA, was also a historic milestone that was reached in June 2019. This is an extremely important step forward in the relationship between the EU and Vietnam. Under this FTA, several tariffs are removed in an effort to promote bilateral trade.
The new FTAs will enable Vietnam to be more involved in international trade and gain more knowledge about science and technology from developed countries. The country is also expected to shift from low-value to higher-value exports. However, although many opportunities are in place for the local economy to leverage, investors should still expect many challenges in the early stages. In addition, applying technology and improving the qualifications of the labor force for modern manufacturing will also create a great driving force for growth, thereby maximizing the pace of industrialization.
Positive effects from US-China trade tensions
A new opportunity for Vietnam's property market has been opened with the US and China being involved in prolonged tensions. China is about to move factories from their home country to new locations, and one of the ideal locations that companies are eying is Vietnam.
According to a report for the first half of 2019 by the United Nations Conference on Trade and Development (UNCTAD), Vietnam is the biggest beneficiary in Southeast Asia during the US-China trade war. Compared to their peers in China, industrial parks in Vietnam offer much better lease prices. Specifically, in Vietnam lease prices range between 100 and 140 USD per square meter while the price in China up to can be as much as 180 USD per square meter per cycle.
According to Savills Vietnam, many multinationals operating spare part manufacturing, apparel, and electronics such as Foxcom, Lenovo, Nintendo, Hanwha, and Shuafu have relocated factories from China to Vietnam. This means that Vietnam will receive a large number of experts, engineers, and workers from these companies. All the other segments such as housing, offices for rent, etc. in Vietnam will also benefit from this relocation, not just industrial properties.
Potential for the development of industrial properties in the future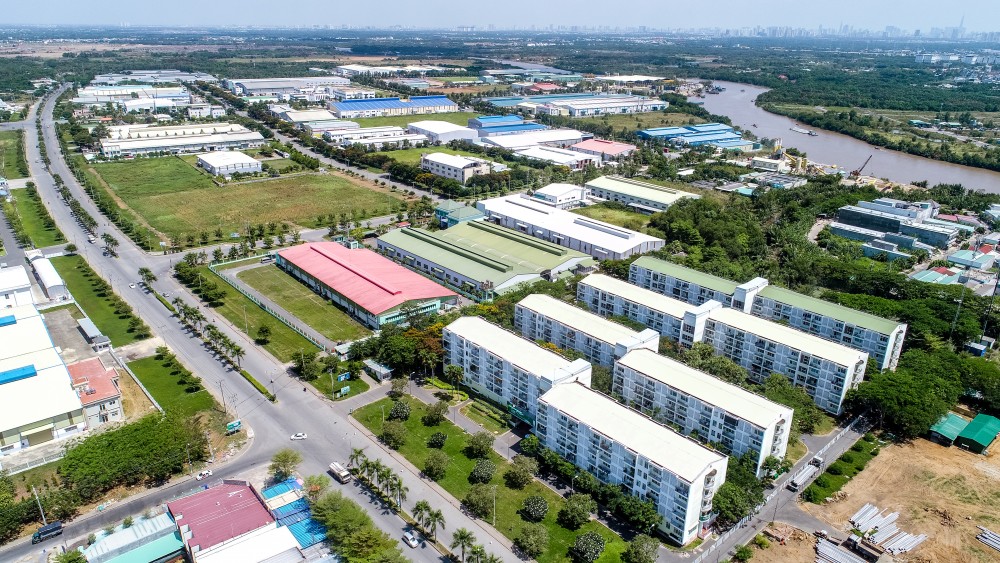 The industrial property market has huge potential for development
Director of the Central Institute for Economic Management (CIEM), Mr. Nguyen Dinh Cung, said: "The attractiveness of Vietnam's industrial properties is higher than the regional average and continues to be driven by the following factors: low labor costs, reasonable land lease prices, corporate income tax incentives, etc."
We can totally believe that Vietnam's industrial properties have and will develop further. This is supported by the existing opportunities as well as the new ones that are becoming more and more obvious. Specifically:
Relatively high occupancy rate
According to a report by the Department of Economic Zones Management, as of November 2019 Vietnam had a total of 335 industrial parks (IPs), including 79 IPs under construction and 256 already operational. These metrics show an average occupancy rate of 75% and more. Besides, industrial land resources have also been continuously increasing thanks to the strong growth of industrial development.
This indicates industrial properties are equally attractive compared to other segments. At the moment, this is a safe segment to choose.
Lease prices tend to increase
Industrial properties in Vietnam come with a relatively high lease price, about 95 USD per square meter per cycle of 50 years. Prices are even higher in places with robust growth. High prices undoubtedly indicate high demands To leverage market advantages, investors should make the most of their resources.
The formation of multiple key industrial clusters
In the Northern region, thanks to reforms in infrastructure policies and legal procedures, we can mention typical industrial clusters like Hanoi and Hai Phong. In the Central region, the Southern Central Coast region including Da Nang and Quang Ngai has also attracted many new property investment projects. The Southern region, the country's biggest, is one of most dynamic developments with the major hubs including Ho Chi Minh City, Binh Duong, Ba Ria – Vung Tau, Dong Nai, and Long An.
The transition from traditional to modern
Industrial parks in Vietnam are increasingly transforming themselves and becoming more attractive to foreign investment. The gradual shift from the traditional model to the modern one is one of the biggest changes, especially in the industrial parks in the Southern region.
Specifically:
Industrial parks where high-rise factories have been built: Instead of adopting the traditional model, they have switched to the blend of commercial and service areas, high-tech clusters, and modern urban areas to improve use efficiency.
Besides, improving the quality of infrastructure and human resources is also of critical importance. In parallel, they also offer industrial properties including offices and apartments for lease as well as provide entertainment and shopping services.
The study of service delivery models is also one of the issues to which continued attention is to be paid. This will involve, among other things, the upgrading of information technology infrastructure and the use of renewable energy.
Combined with this transformation, an aspect to which increasing importance is being attached and which is becoming a trend in the coming period is the green factor. Maintaining the quality of the living environment when combining production and service, utility, and housing areas in the same project is of extreme necessity. Until now, the number of truly green property projects remains modest, especially in the industrial property segment, despite increasing encouragement and promotion.
However, with Tran An Group pioneering the application of green items in the Tran An Tan Phu Industrial Park Project in Tan Phu commune, Duc Hoa District, Long An Province, the market has seen some positive signals. This project promises a lot of expectations for a living and working space that meets high standards of comfort and quality. This industrial park is expected to officially come into operation within 2021.
Source: vinhomes.vn